Round Reusable Puppy Pads Extra Large Washable Dog Pee Pads
The
reusable puppy pads
are composed of 4 layers, with good water absorption and leak proof function. The absorbent fabric inside can absorb moisture quickly. Cleaning these reusable pee pads for dogs is simple, fast and effective. Just throw dog training pads into the washer wash warm and tumble dry in low heat or hang dry. The large size makes it suitable for canines of all sizes. Our dog pee pads with non slip grip backing, this design help maximizes the dog pads stay on hardwood floor or carpet, so it doesn't slide around.
Due to lighting and monitors, there is a small difference between the picture and the real product. So you can get a sample to check quality before bulk order.
Washable Pee Pads
Non Slip
Customized Pattern
Get Wholesale Price
Custom Puppy Pads - Increase Brand Awareness
We believe pets are not just pets, they're our family members, share our joy and emotions, we grow up with each other, their accompany is the best gift. We aim to provide the better products for you and your pets, help you save more time to enjoy life with your pets.
A wide variety of custom puppy pads options are available to you. You can also choose from sustainable, stocked pee pads, as well as from m, l, and xl. They can increase brand awareness and have loyal customers. We manufacture all of our puppy pads at our factory in China. And we are continuously improving and evolving for our customer needs. So what customization is possible?
Custom Type
These pads are available in regular types and washable pads, which can be used inside your pets crate, bed or anywhere in the house or car. Perfect for house training your new puppy.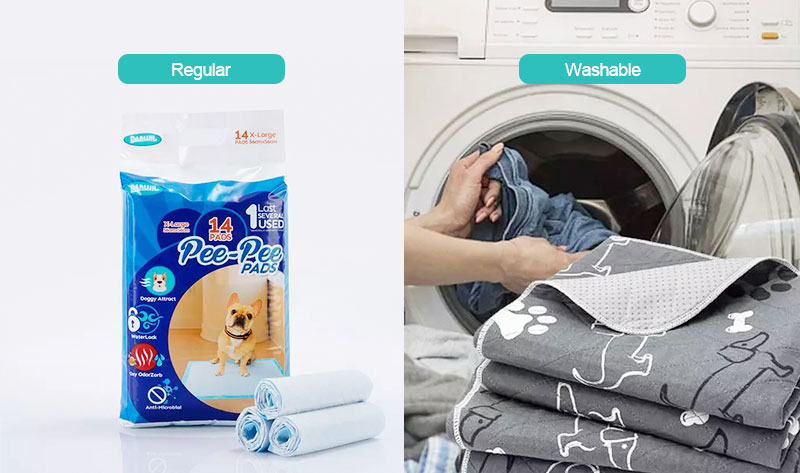 Custom Color
Choice of pad colors: blue, pink, green, charcoal, white and More.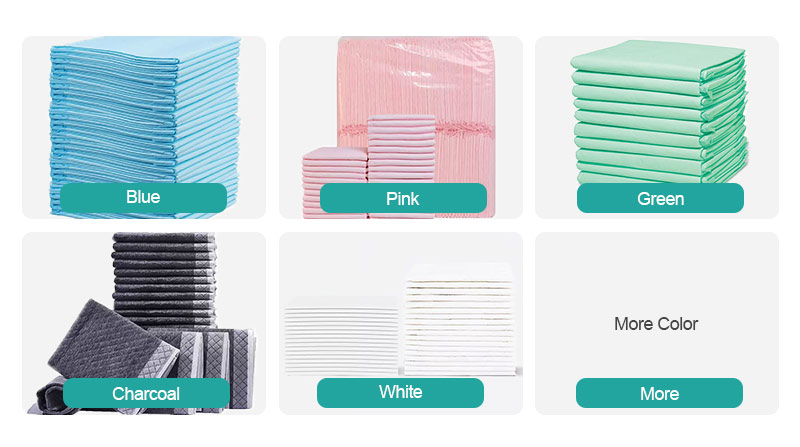 Custom Packaging
Your business logo or advertising slogan prominently displayed on the container. And having branded puppy pads will make your business stand out. A wide variety of custom dog pee mat options are available to you, such as a designed plastic bag, blank bag and retail box.

Custom Size
The size of the puppy pads can be a standard 13 X 18 inches (S), 23 X 18 inches (M), 23 X 23 inches (L), 23 X 35 inches (XL). Also they can be customized. The training pads for dogs are also available in packs of 100, 500, and 1000 count. Sizes and measurements are approximate and patterns may vary from photo and description.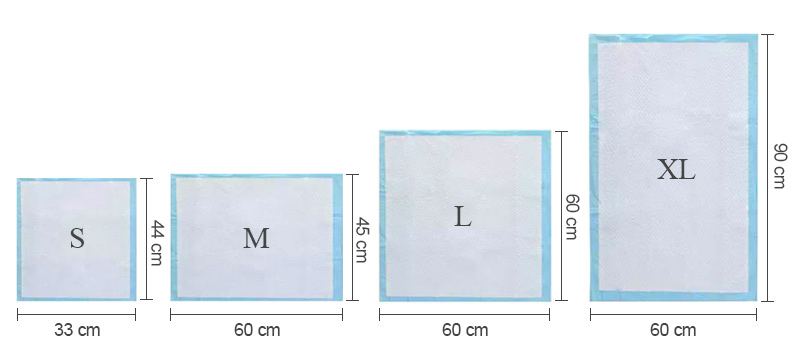 | | | | | |
| --- | --- | --- | --- | --- |
| Specifications | 33*44CM (13*18 Inches) | 45*60CM (23*18 Inches) | 60*60CM (23*23 Inches) | 60*90CM (23*35 Inches) |
| Weight | 14g / 16g / 18g / 20g / 25g | 28g / 32g / 36g / 40g / 50g | 30g / 40g / 50g / 60g / 70g / 80g | 56g / 65g / 72g / 80g / 100g |
| SAP | 1g / 1.5g / 2g / 3g / 4g / 8.5g | 2g / 3g / 4g / 6g / 8g / 13g | 3g / 4g / 6g / 8g / 10g / 16g | 4g / 6g / 8g / 12g / 16g / 26g |
More Customization Options
Here at cleansoftpaper.com, we strive to offer our customers more customization options and flexibility. And if you are looking for a size or weight not listed here, then we got you! For more complex orders or tailored needs, you can contact us.
Puppy Pads Manufacturer
About Us
Welcome to Cleansoftpaper.com. We are committed to providing customers with high-quality and highly absorbent pet training pads. Our pet training pads offer superior performance and reliable convenience. They are suitable for most pets like dog, cat, hamsters, etc. You can purchase puppy pads in bulk at cheap prices! Hopefully we could make your business better!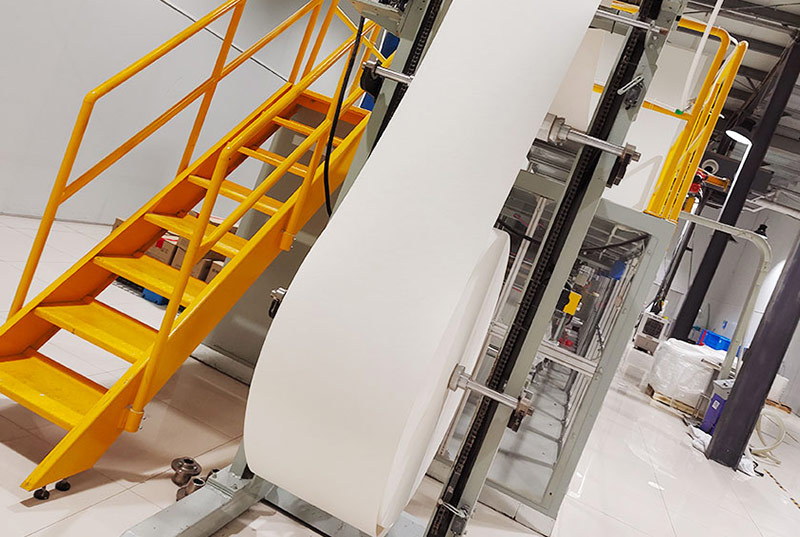 Why Choose Us
1. High Quality: we have the ISO9001, ISO22716 certificates! Our completed paper may be tested for a variety of qualities, including stretch, opacity, moisture content, smoothness, and color!
2. Best Service: We are the most experienced manufacturer for OEM and customized paper and sanitary products!
3. Reliable: lots of our products are highly recommended to many countries, like United States, Australia and UK!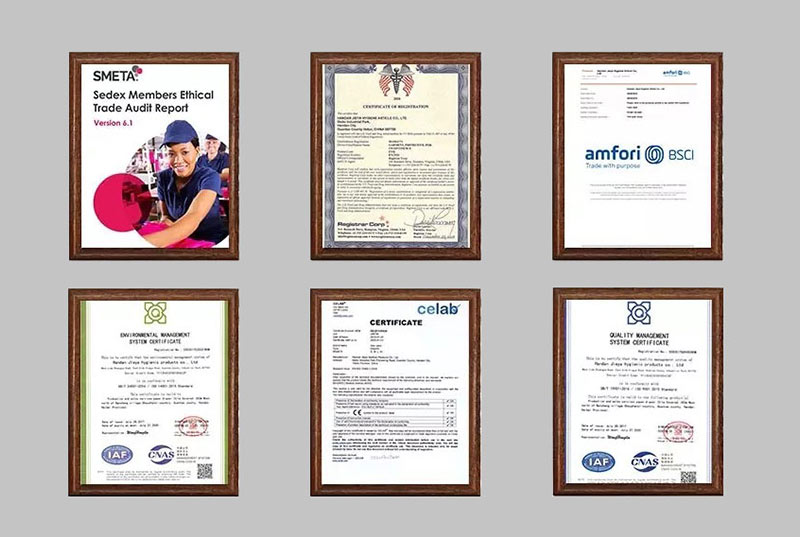 Specification of this Reusable Puppy Pads
| | |
| --- | --- |
| Style | Puppy Pads |
| Color | Multi Color |
| Application | Small Animals |
| Top Sheet Material | Soft Fabric |
| Back Sheet Material | Waterproof Material |
| Sheet Size(cm) | Custom |
| Sheet Quantity | Custom |
| Box Size(cm) | Custom |
| Package | Custom |
| Feature | Reusable Puppy Pads |
| Absorbency | Super Absorbency |
| Manufacturer | Cleansoftpaper.com |
Get Bulk Price
Looking for a good deal on bulk puppy pads order? Explore a wide range of the best custom puppy pads products here. Also we carry a huge selection products in stock that is ready to ship fast. Stock up and save by ordering our quality puppy pads in bulk!
Contact us for all possibilities on all our products for any budget. And we will talk about bulk price, shipping options, delivery times and more. Shipping costs will be calculated on the total order/quotation. Save by combining several items in one shipment!
People Also Ask
Can puppy pads be reused?
Many are now using reusable puppy pads as they are more environmentally friendly. Disposable puppy pads can be thrown away once used, however, they then need replacing and therefore the long term cost is higher than washable puppy training pads. Washable puppy pads which can be cleaned at home.
How often do you wash reusable pee pads?
It's recommended to wash at least once a week, might be more often with multiple pets.
How many times can you reuse puppy pads?
Though the exact answer will be different for each puppy, in general it is a good idea to change the pad after 4 or 5 uses. This will stop the potty area from smelling so terrible.
Top Reviews of this Reusable Puppy Pads

Brandi Herrell from United States verified purchase
The material is super good i really liked them. I use a pad over them because i don't want to be washing all the time, i use these so if the pad leaks thru it doesn't wet the floor. These have a great grip, i which they were bigger but the measurements are accurate. I will order more and bigger ones. Super good material...

Amy from United States verified purchase
Excellent option for new puppies without the waste of disposables. Highly recommend. Super absorbent and cute. Washes well. Drys flat without wedges curling. Money well spent.

Brianna from United States verified purchase
This is a great product. Wash fantastic and dry pretty quickly. They are very absorbent, have had no leakage issues. Very easy to clean. Would recommend 100%.