Waterproof Transfer Positioning Bed Pads With Handles For Patients
Our positioning
bed pads with handles
are appropriate for beds or wheelchair use. This ergonomic pad greatly saves your effort. The transfer sheet comes with 8 heavy-duty handles, which gives the caregiver more control. The material is made of waterproof nylon fabric, which is not only breathable, but also waterproof (nylon fabric is waterproof, nylon webbing is not waterproof). Slide sheet is easy to clean and dry, you can just put it in the washing machine, which can be used repeatedly multiple times.
Due to lighting and monitors, there is a small difference between the picture and the real product. So you can get a sample to check quality before bulk order.
With Handles
For Patients
Waterproof
Get Wholesale Price
Custom Bed Pads - Increase Brand Awareness
A wide variety of custom bed pads options are available to you. Our protective underpads come in different absorbency levels and sizes to meet every incontinence need. You can also choose from disposable bed pads, as well as washable pads from m, l, and xl. They can increase brand awareness and have loyal customers. We manufacture all of our bed pads at our factory in China. And we are continuously improving and evolving for our customer needs. So what customization is possible?
Custom Type
These underpads are available in disposable types and washable pads.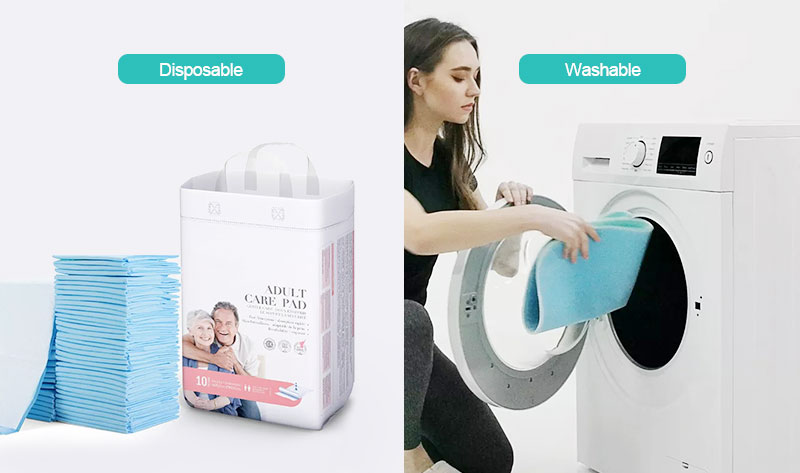 Disposalbe Bed Pads
Created with high-end fluff fill polymer layers, our disposable underpads provide you with high liquid absorption for enhanced safety as well as fast-drying comfort throughout the night. They're disposable for quick clean up.
Reusable Bed Pads
The reusable underpads are machine washable for a sustainable, cost effective solution. Waterproof, vinyl-knit barrier and twill facing withstand multiple washing and drying cycles while staying soft and leak-proof.
Custom Color
Choice of pad colors: blue, pink, green, charcoal, white and More.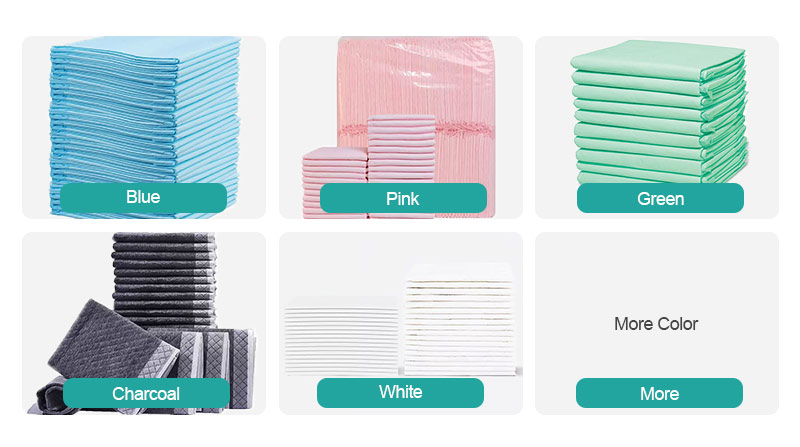 Custom Packaging
Your business logo or advertising slogan prominently displayed on the container. And having branded underpads will make your business stand out. A wide variety of custom underpads options are available to you, such as 25 pcs per bag, 35pcs per bag.

Custom Size
The size of the puppy pads can be a standard 23 X 18 inches (M), 23 X 23 inches (L), 23 X 35 inches (XL) and 25 X 59 inches (XXL). Also they can be customized. Sizes and measurements are approximate and patterns may vary from photo and description.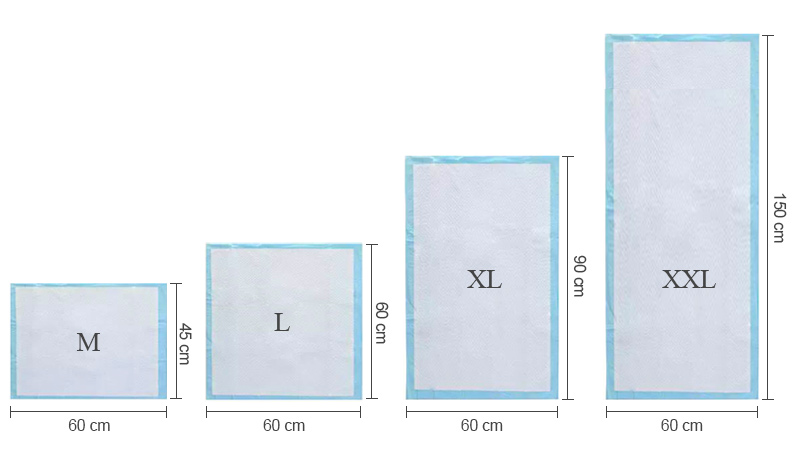 | | | | | |
| --- | --- | --- | --- | --- |
| Specifications | 45*60CM (23*18 Inches) | 60*60CM (23*23 Inches) | 60*90CM (23*35 Inches) | 60*150CM (23*59 Inches) |
| Weight | 28g / 32g / 36g / 40g / 50g | 30g / 40g / 50g / 60g / 70g / 80g | 56g / 65g / 72g / 80g / 100g | 65g / 72g / 80g / 100g /110g |
| SAP | 2g / 3g / 4g / 6g / 8g / 13g | 3g / 4g / 6g / 8g / 10g / 16g | 4g / 6g / 8g / 12g / 16g / 26g | 6g / 8g / 12g / 16g / 26g / 36g |
More Customization Options
Here at cleansoftpaper.com, we strive to offer our customers more customization options and flexibility. And if you are looking for a size or weight not listed here, then we got you! For more complex orders or tailored needs, you can contact us.
Bed Pads Manufacturer
About Us
Welcome to Cleansoftpaper.com. We are committed to providing customers with high-quality and highly absorbent bed pads. Our underpads offer superior performance and reliable convenience. You can purchase bed pads in bulk at cheap prices! Hopefully we could make your business better!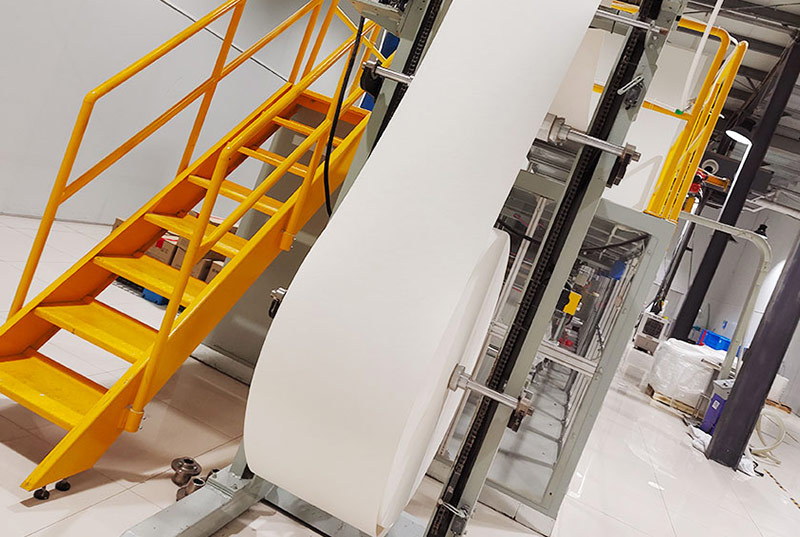 Why Choose Us
1. High Quality: we have the ISO9001, ISO22716 certificates! Our completed paper may be tested for a variety of qualities, including stretch, opacity, moisture content, smoothness, and color!
2. Best Service: We are the most experienced manufacturer for OEM and customized paper and sanitary products!
3. Reliable: lots of our products are highly recommended to many countries, like United States, Australia and UK!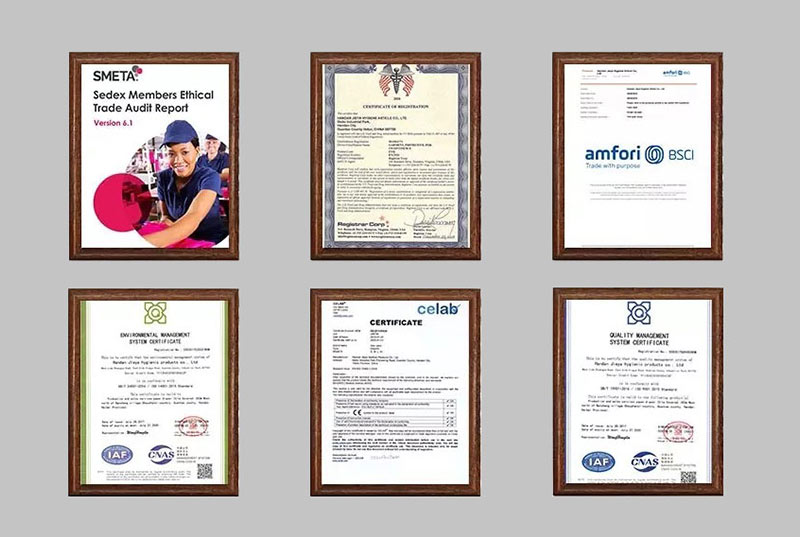 Specification of this Bed Pads With Handles
| | |
| --- | --- |
| Style | Bed Pads |
| Color | Blue |
| Application | Adult, Elderly |
| Top Sheet Material | Nylon Fabric |
| Back Sheet Material | Nylon Fabric |
| Sheet Size(cm) | 39*47 inches or Custom |
| Sheet Quantity | 2 Pcs |
| Box Size(cm) | Custom |
| Package | Custom |
| Feature | Bed Pads With Handles |
| Absorbency | No Absorbency |
| Manufacturer | Cleansoftpaper.com |
Get Bulk Price
Looking for a good deal on bulk bed pads order? Explore a wide range of the best custom bed pads products here. Also we carry a huge selection products in stock that is ready to ship fast. Stock up and save by ordering our quality bed pads in bulk!
Contact us for all possibilities on all our products for any budget. And we will talk about bulk price, shipping options, delivery times and more. Shipping costs will be calculated on the total order/quotation. Save by combining several items in one shipment!
People Also Ask
Why are they called Chux pads?
Chux pads were first introduced by hospitals in the 1950s-1960s as a solution to absorb body fluids like blood and urine. The name "Chux" pads came from the fact that these thin pads were simply "chucked" in the trash after use.
What are bed pads called?
Disposable underpads are also known as disposable bedpads, bed sheets, or chair pads.
How do you use a bed pad?
How to use a bed pad. The instructions are actually very simple – just place the pad under (or on top of) the fitted sheet. Most pads will cover from the chest, and down to the foot of the bed. So, lay the pad flush with the foot of the bed, replace the fitted sheet, and your installation job is done.
Top Reviews of this Bed Pads With Handles

Maryann from United States verified purchase
I was amazed at the quality of this positioning pad. I am so glad I purchased the pad! Great buy for the price!

Kina from United States verified purchase
This has been very handy to use and it slides easily against the sheets.

Doda from United States verified purchase
Good product. The size works well, they are absorbent, but if there are any accidents or major leaks they soak through requiring a sheet change, which is the whole reason we buy them… they work for us about.